Testimonials 2006
Here are a few YouTube videos of Accuracy Systems Inc. Conversion Rifles filmed by owners.
Suppressed 243 WSSM Vapor trails & 400m Practical Shooting
Mini 14 300yds on steel plate
The custom Mini-14 Ruger again
Ruger Mini-14 Ranch Rifle Accuracy Upgrade
Here are just a few of the many positive responses we receive on a weekly basis.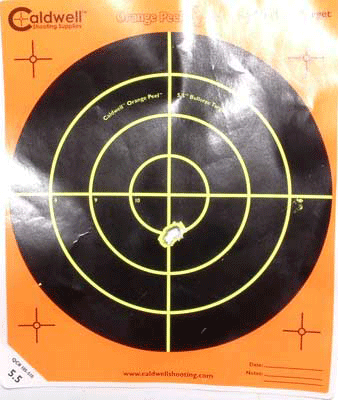 12 / 2006

Aloha Carl,

I'm not sure I want to send this rifle back for the new stock. Look at the group I shot offhand at 50 yards with a red-dot. That's just unbelievable.

However........I will send it to you on Monday.
Tom Burnett 12/2006
---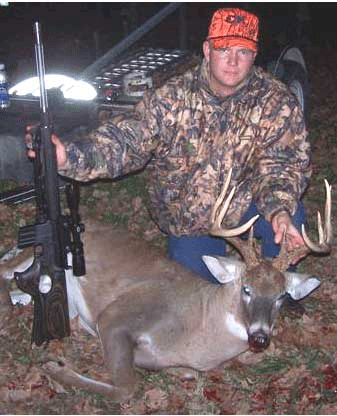 12 / 2006

Carl, I just wanted to write you and let you know how happy I am with the 25 WSSM upper and butt stock. I managed to take this 200 lb whitetail at over 300 yards, and I haven't even finished the break in period!

You have an excellent product and great customer service.

Thank you. It was a real pleasure to do business with you. Sean Shultz 12 / 2006
---
12 / 2006
I have one of your
wonderful adjustable
gas blocks for my new 580 series mini-14. Do you make an adjustable gas block for the mini-30 also? Does the same one fit both rifles? Please pardon my lack of knowledge of the exterior of the barrel diameter.
Thanks in advance for the information.
Again, I really enjoy your products.
Officer Michael Rynearson
City of Williams Police Department
---
Hi Carl, 10/06/2006
Well I went to the range with the mini 14 there was lots of interest in it and people were impressed with the group's it shot . It's a great rifle and I really love it.
Thanks for your help, Bob McCart
---
12 / 2006
Carl,
I love the work you did on my Mini-14 (Completed May 2006). I'm really enjoying it, thank you very much.
Thank you,
Trent Balke
---
08/05/2006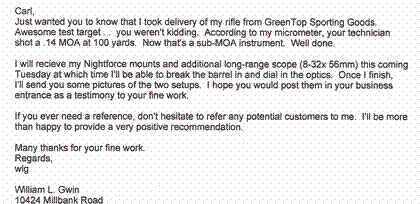 ---
08/05/2006

---
08/05/2006

---
08/05/2006

---
08/05/2006

---
08/05/2006

---
Carl, 7/3/2006
I got my mini-14 you guys tricked out last month and I must say it is the most accurate 223 I've seen in a long time. Sub MOA @ 100 yards using Federal 77 grain Sierra Matchking BTHP.
Thanks, and I must say that this is one fine rifle and I thank you for all the work you have done to date.
Mike Mayman
Michael J. Mayman
Deputy District Attorney
Riverside County District Attorney's Office
---
08/05/2006

---
02/08/2006
Hi Carl,
I am glad the money order finally arrived. I have shot the Mini 14 223 twice and it is a
joy and pleasure to shoot
and have had quite a few 100 yard 3 shot groups that could be
covered with a dime
and most had two of the holes touching. Great Job and thanks and I am looking for a used stainless Mini Thirty Ranch 7.62 X 39 at present and may decide to send it to you for your magic to add the same stainless barrel in the 7.62 X 39 caliber.
Howard Doc Edwards
Vero Beach, FL