Testimonials 2011
Here are a few YouTube videos of Accuracy Systems Inc. Conversion Rifles filmed by owners.
Suppressed 243 WSSM Vapor trails & 400m Practical Shooting
Mini 14 300yds on steel plate
The custom Mini-14 Ruger again
Ruger Mini-14 Ranch Rifle Accuracy Upgrade
Here are just a few of the many positive responses we receive on a weekly basis.
---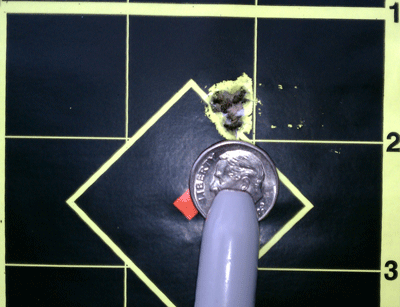 12/28/2011
Dear Carl, love the new toy you built for me last spring the .204 AR-15 ..this thing shoots flawlessly in the cold weather with the chrome bolt and carrier . I recommend it to anyone that hunts in cold weather !!! Sorry it took so long writing this but it took a while to get time to break in the barrel here's the picture's at 100 yards with a VX-3 Leupold 4.5-14-40 , 3 shot group , factory Hornady 32gr. V- max. Again thank you !!!! Would like to get another barrel definitely !!
Chris Chabot
chabotchris@gmail.com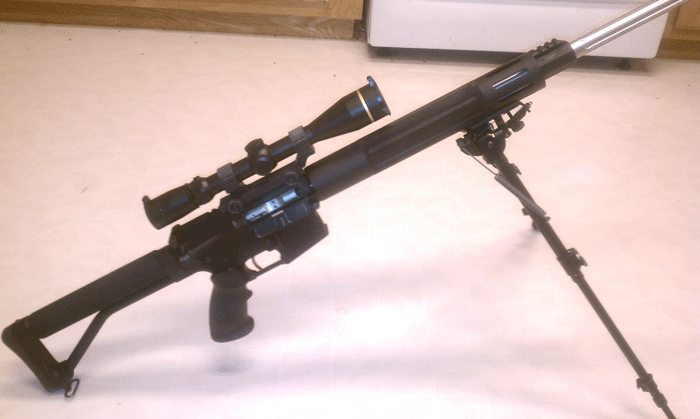 ---
11/24/2011
Carl,
Thank you again for the superb work you did on my Rifle. I am completely satisfied and impressed with this 338 Lapua firearm.
jamason.lawrence@yahoo.com
---
11/8/2011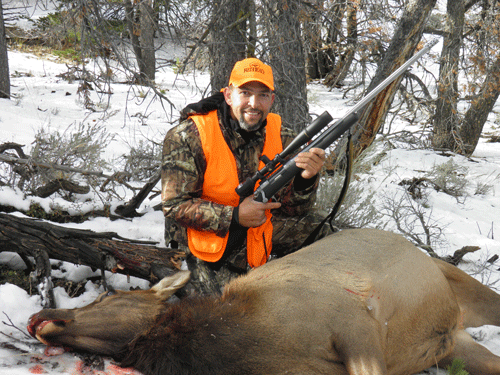 I wanted to thank you all very much for the great work you done on my rifle. You guys bent over backwards and got it done for me before I left on my Wyoming elk hunt. When I got it I noticed that i picked up quite a bit of weight with all the new upgrades but it looks really nice. I could not wait to use it on my hunt. I took it out the weekend after I got it to sight in my scope and got it dialed in after 5 shots. I was very impressed at the grouping I got. Really nice work guys. I applaud you guys. Anyway the much anticipated day was coming up and I got all my gear together and headed out to Wyoming. On opening day I was the first one up and ready to go. I made sure I had all my gear and checked it over a second time before I headed up the mountain. After spending all day up there and not finding a decent size cow I was ready to call it a day. As I was starting to head back I observed 4 hunters coming up the mountain into the thick tree line. I figured I would make my way around to the other side of the mountain in hopes that these hunters would flushing out the heard that went up into the tree line earlier that afternoon. I finally made it to the top of the opposite ridge where I had a nice view of the tree line. After sitting there for about 15 minutes I heard a few shot. I kept glassing the area and ranging the areas I predicted they may come out at. after another 10 minutes my hunch paid off. I started to see deer coming out of the tree lines and headed into the clear meadows making their way into the next mountain. A few minutes later I spotted my first elk coming out of the tree line. I ranged them once more and waited for them to get closer. Then they started to turn towards another mountain. I guess 310 yards was the closest I was going to get to them I set my rifle up on my rifle stick and took aim. I took the shot and on my first shot took down the biggest cow in the heard. Here is a picture of this years hunt. Once again thank you very much.
Pete Barajas
pbarajas@bop.gov
---
11/1/2011
Hello all,
got my ar10 upper package, it's work of art, cannot wait to take it out.
Ole Root
dysti1812@hotmail.com
---
10/10/2011
Hi Carl,
William McGee here. Carl it's shooting very well and I keep getting compliments! I continue to get nice remarks on our workmanship and at least one fellow at the range said he has heard of you and now that he sees your work will send his rifle to you, time will tell. Anyway I've been shooting mostly the Remington match grade 62 grain but I want to buy a large lot of something I can keep stored just in case. I wanted to make sure but I think I read on your web site I can shoot the Federal 5.56 X 45MM 62 grain. I am a fan of buying good quality ammo but for an emergency I would like to have this on hand. Please let me know, thanks.
William McGee
Alameda, California USA
williamamcgee@yahoo.com
William, DO NOT SHOOT 5.56 AMMO IN A 223 CHAMBER IT WILL DAMAGE YOUR RIFLE!
---
10/3/2011
Hello Carl,
I wanted to email you and Thank you and the rest of your staff for the speedy work that your guys preformed on my Remington SPS 700. I got it from the UPS delivery person on Friday and could not wait to open it up and check out my new toy. Once I got it out of the box and opened the case I found it in more wrapping. The packing was so good it took some effort to get it out of the all the wrapping. Once I got it all unwrapped I was awed by the workmanship and the overall appearance. I got my scope all mounted up and ready for the rifle range. I cant wait to go out and shoot it. I am hoping to shot it this Thursday night before I leave to Wyoming for my elk hunt. I will let you know how it goes. I think I am going to fork out the money for the bi-pod next month. Once more Thank you guys very much.
Pete Barajas
pbarajas@bop.gov
---
9/13/2011
Beautiful work! Look forward to shooting/seasoning this fine AR-15 upper.
Mike Lengel
lengelmichael@yahoo.com
---
9/6/2011
Rem 700 Left Handed:
Received the rifle and I'm pleased with how it looks and feels! The brake does an amazing job of reducing the recoil. I think my 308 kicks harder. Accuracy is another story. I wanted to thank you guys for all your help during my rifle build. Yesterday, I shot two consecutive 3 shot one hole groups yesterday using my 155gr A-Max reloads. They measured .224 and .229. I can't ask a rifle to shoot any better than that!! Well done.
Dave G
dcgilson@knology.net
---
8/3/2011
Good Morning Carl,
I was finally able to take my rifle out and shoot it. I had to get it zeroed in the season is almost upon us. I tried bore sighting it which was tough but managed. Once I started hitting paper I was able to walk it down to (almost) where I wanted it. But without even trying to I was able to place 3 bullets almost 1 inside the other. I estimated the spacing (no ruler) and was thinking 3 bullets in a little less than ¾'s of an inch. That was in a light gun vise, not free hand, at 100 yards. The bullets were at 11 o clock position, 2 inches high of the bulls eye. Without even trying!!!!! WOW!!! Also the barrel was hot, this was like shot number 20-23 in a 1- 2 hour span. I still need to fine tune it now and are looking forward to it.
Then the other kicker was how little recoil. My wife had her little 30-30 and we shot it afterwards and it hurt my shoulder.... Go figure. If some how, my wife happens to get my rifle in the near future, due to the low recoil, I will be coming looking for a new one from you with all the bells and whistles.
Thanks
Happy Shooter
Matt Hill
mhill@roblumco.com
---
7/22/2011
Hey Carl, My name is Steve Erickson and I had you do a Mini-30 conversion a few years ago. Just though I would send you an update on how well this mini is doing at the range.
As with all Mini's it is very particular about it's ammo. It is not uncommon to get 2-3 inch groups with one ammo and 1-1 1/2 with another. Consistency is hard to come by with the Mini.
That said, I have found several very consistent loads that my just impress the hell out of you. I know they impressed me. Here is a
link
to a Mini shooting contest that I started. If you have the time take a look at this thread and scroll down to "steve4102" entry. That's me and that's the Mini you built.
Thanks
steve4102@cpinternet.com
---
7/7/2011
Carl,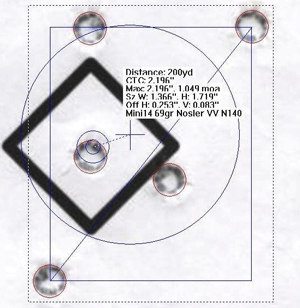 Attached are the results of your mastery! Prior to your work it would be lucky to keep them on the 8 1/2"X11" paper at 200 yards! I believe it prefers the Vihta Vuori N140 powder over the Varget however the Nosler 69 grain Custom Competition bullet loaded to magazine length appears to be a winner! More testing remains, thanks again for all your efforts.
Regards,
Kelly A. Williams
Majestic CNC Services
212 Beechwood Drive
Lititz, PA 17543
Ph. 717-917-5318
Fax 717-627-3172
Email: mrmajest@ptd.net
---
6/30/2011
Hello all at Accuracy Inc,
Thank you all so much for producing such an amazing product. I was a little skeptical about the price of the for-end, but when I received it and looked it over I was instantly happy with my purchase. Tight tolerances and generous wall thickness in the for-end was something I wasn't expecting. Although it is much heavier than I expected - it is definitely worth the extra weight for the rigidity it offers. It fit my rifle perfectly with no slop or play whatsoever.
Before your product, my rem 750 (.30-06) was set up with a Bushnell Elite 3200 3-9x . From bench rest at 9X with sandbags and Remington core lokt 150gr ammo I was printing a 12 inch group (4 - 3 shot groups) that looked like a 12g at 100yds. Although I was extremely disappointed ( and wondering if I should throw the 750 into a lake) I tried again with Hornady Superformance 165gr. With simply the ammo change I was shooting a 4 inch group at 100yds - however this was still nothing to brag about in any way. I was losing faith in this rifle.
After searching the internet I discovered your for-end replacement (we have nothing of this sort in Ontario). After ordering it I decided to also mount a Vortex Strikefire red dot and a BlackHawk Recoil dampening pistol grip stock to the 750 as well.
After installing everything I headed to the range. I wasn't hoping for anything amazing - I had decided to make this into a bush gun for 100yds and under (hence the red dot)
Just for fun I fired 6 rounds at 100 yds using a 2X doubler on the red dot. I couldn't believe it when I approached the target - all six rounds were in a 2.5inch spread.
This instantly made my purchase worth while. It was disturbing to me that now my rifle was more accurate with a red dot than it was with a 9x scope and the old for-end. I can only assume that the new for-end coupled with a decent scope would perform 1 MOA without strain. I was actually thinking of getting rid of this gun before I found your product - it was not accurate at all. Semi auto is no advantage if they are spraying into the bush. Now this rifle seems like a new gun altogether - fun to shoot and as accurate as I need it to be.

Thanks again for such an excellent product.
Regards,
Ryan C
Ontario
Canada
---
6/6/2011
Carl,
Mini 14 arrived on Friday afternoon. You are a genius! It shoots the 69 gr. Nosler in front of Varget at 1 MOA. It shoots 4 of the 5 into a lot less. This is w/o any load work as these were for my AR. Beautiful work, thanks for all your efforts.
Kelly
Majestic CNC Services /
mrmajest@ptd.net
---
4/27/2011
Carl.
Having to wait for the gun was brutal, but good things are worth the wait. Just finished the break-in on my Mini-14 223. Your guarantee is good. Hornady's Superformance Varmint 53 gr. 5 shot 100 yrds. .926" Fiocchi 50gr VMax 3 shot groups 100 yrds. .530", .550". Not bad for .99 promise. Thanks again and appreciate your attention to detail.
Don
dhkc1754@cox.net
---
Mon, 4/18/11
Hi Carl,
I fired 60 rounds last week and was very impressed with your work on the Mini 14. Some other folks admired your work as well. I need to order a rifle scope and wanted your opinion on what might work for me given I'm a beginner with rifles. I suppose if I had more experience I would have talked more about this with you upon the order write-up.
Thanks for your help.
William McGee
williamamcgee@yahoo.com
---
3/30/2011
To Accuracy Inc.
I got it last week, it's looks great!!
Thank you!!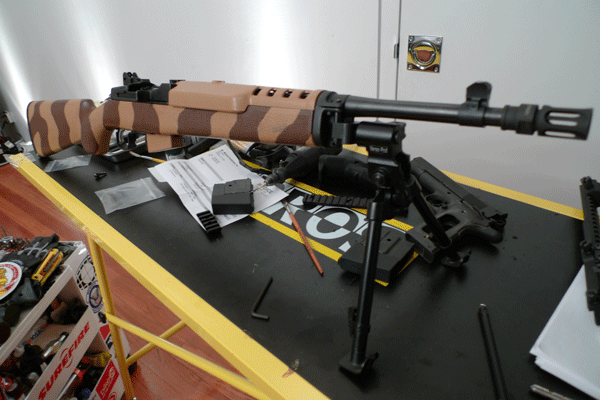 Best regards,
Satohiro Kikutake
satohirok@aol.com
---
3/30/2011

To the Staff at Accuracy System 3/30/2011
I just received my Vented full rail system for my Remington 7400. I couldn't be more happier with the performance and results..My gun looks like a different rifle all together..I am very please with my purchase and i will be doing business with your company again in the near future..I have included a few pics to show you what my rifle looks like now ..Thank you again for making such an incredible product.
Regards
K Lewis
keenan2000@netzero.net
---
3/30/2011

Hi,
This has all been taken care of. I received a 1/2 rail free float forearm from you toward the end of January. I must say I couldn't be happier with your product. The install was easy and the results, even with the factory barrel, have been great.
Looking at the pictures on your web site gave me a couple of ideas of my own. I had a spare Mesa Tactical High Tube adapter for my 870 laying around and put it on my 7400 along with a CAA adjustable butt stock. I'm quite pleased with the result but I am going to swap out the high tube setup with a low tube adapter so I can mount an adjustable cheek piece on the butt stock. I've attached a couple of pictures so you can see what I've done.
Again, you have a fantastic product and it was a pleasure doing business with you.
Al Abney
aabney@shaw.ca
---
3/30/2011
Hi ya'll. You made a mini-14 for me love it! The more I shoot it the better it gets. But I was wondering is the barrel chrome lined? I know it's after the fact but it would be nice to know.
Thanks Ron.
Jillandron@cfl.rr.com
---
02/15/2011
Time for another one
Carl sorry to be slow in getting back to you but the brutal cold we've had most of the last two weeks makes it tough to take care of forty dogs and four horses.
I'll try and get some pictures sent.
Now one more for your testimonials.
Carl, two years ago I asked you to do the impossible which was to take a factory mini-14 in 6.8 SPC and make me a sub ½ MOA "every day carry gun" out of it.
You performed that task flawlessly within an extremely reasonable budget. The rifle continues to amaze me to this day. Monday Morning I was heading out to a field trial and came across four coyotes crossing a wheat field. The nearest was quartering away right to left at about 30 degrees directly into a head wind. The farthest was at about 500yds crossing right to left full on broad side and the other two were together at about 400yds. All were at a pretty good trot.
I was able to stop the truck, get the mini out the window and kill the farthest with a single shot. The closest was about 400yds out when I got on him, and moving at a good clip and I was able to drop him as well in another single shot.
The two in the middle had separated and were at a mad paced run at about 600 yds when I got on them. It took three rapid shots to also bring one of them down.
I've shot rifles that cost 5 times what you charged me that don't perform as well as that little gun.
There's a reason why I continue to send you all the customers I can. You always deliver and at a very reasonable price.
My order for a new AR-10 in .260 is waiting in your other in box.
Thank you again. CR
Charles Rose
WildRose Outfitters and German Shorthairs
PO Box 1290
Seymour, Texas 76380 Ph:940 889 4646
wildrose@texasquail.com
www.texasquail.com
---
02/01/2011
Carl,
Here is a picture of a 287 lb. pig I shot @ 180 yards while it was running. This was the first hunt with my new 6.8 mm AR-15, you built for me 2 weeks ago. The rifle is so accurate, the pig never had a chance.
Once again, thank you to you and your staff. You build an amazingly accurate firearm! I look forward to adding to the three Accuracy Systems AR's I already have.
Regards,
Dino Tomassi
Santa Clara, CA.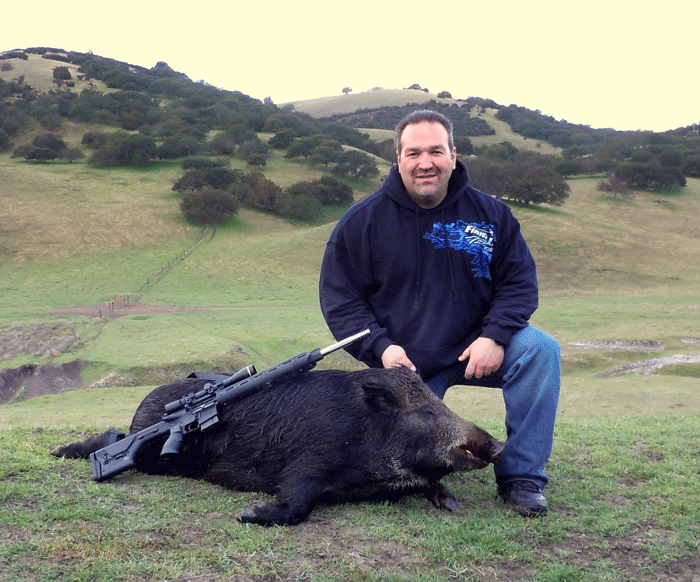 ---
01/22/2011
Dear Carl,
With six months to re-think my Mini 6.8 purchase while I waited on my build, I had hoped for the best, but feared the worst. I started wondering if a Mini could ever really be an accurate rifle for hunting, despite the accolades for ASI's work. It took another six months to find and install the glass I wanted at a price I could afford. I just finished my first 60 rounds of break-in at the range.
Frankly, it stuck in my craw that the guarantee was 1.25" in 6.8, so you can believe I was very happy to see a 1" test group arrive with my rifle. I know people exaggerate their prowess at the range, but you can trust that your own test group has been matched with increasing frequency as I settle in with this rifle. I don't credit the results to my own ability, which is about average, but rather, to yours. Fit and finish were both crazy-good. Any customer wondering about the effectiveness of the linear break vs. weight and length should just go for it. See the attached picture of the finished rifle with Swarovski Z6i 1.7-10X42. SSA Barnes 110gr TSX TAC loads have given me the best results so far, and it is definitely the cartridge I will hunt with. 30 more rounds to go at the range, and then off to the Central Coast of California to find fat pigs.

Feel free to use this testimonial and my name if you wish, but please do not publish my email address.
With sincere gratitude for great work,
David Katz
---
01/20/2011
Dear Carl,
I am absolutely delighted with my new 204 upper. After the barrel break -in period, I'm now shooting 1/2" 5 shot groups with the factory ammo you recommended. My coyote reloads are sub 1/2" 5 shot groups, most hovering around 3/8",WOW!! The coyotes here in New York will be putting you on their most wanted list. Again thanks for a job well done. Mike from New York.
Michael Martin
michaelmartin@spiritwolf.net
---
01/17/2011
Hi Carl,
Thanks for doing everything you said you would.
I am now a believer in brakes. It is truly amazing.
The trigger is what I wanted but I really didn't expect a trigger job to get it there.
I hadn't seen that removable magazine except in pictures. It is very nice.
The accuracy:
I was only able to put three down range. I used three out of the box factory 200 grain. Our targets were remarkably similar. It will be fun to work with it.
Please extend my thanks to everyone involved and don't leave out the person who came in to ship it out.
Thanks for fixing it before I gave up on it.
Best Regards,
Mark Prsha
electrak@sbcglobal.net