Testimonials 2014
Here are a few videos of Accuracy Systems Inc. Conversion Rifles filmed by owners.
Suppressed 243 WSSM Vapor trails & 400m Practical Shooting
Mini 14 300yds on steel plate
The custom Mini-14 Ruger again
Ruger Mini-14 Ranch Rifle Accuracy Upgrade
Tannerite meets Accuracy Systems Ruger Mini 14

Thought you guys might enjoy this.
I was at a ranch in Eastern Oregon last month and our host put some Tannerite in a 1-inch pipe beneath a (spent) propane tank 75 yards away. He told me I had 20 chances to hit the one-inch-diameter target.
This was my first shot.
Thanks again for your excellent work on my rifle.
GR, Portland geoff.rogers@comcast.net
Please Note:
If movie does not play your browser does not support the
Video Tag.
You can update your browswe or click on the Tannerite meets Accuracy Systems Ruger Mini 14 link above to watch it in a different formate.
---
Here are just a few of the many positive responses we receive on a weekly basis.
12/27/2014 12:05:27 A.M. Mountain Standard Time
Subj: Happy results
Hello,
I'm sending successful results upon completing my at build thanks to your fully assembled 308 upper. The 100y target is a bit of a mess as I was sighting in too, but you can see some good grouping from the factory Nosler Match ammo.
Question so I can get my reloading dies right, what are the dimensions of your 308 match chamber?
Thank you,
-Mac mac951@gmail.com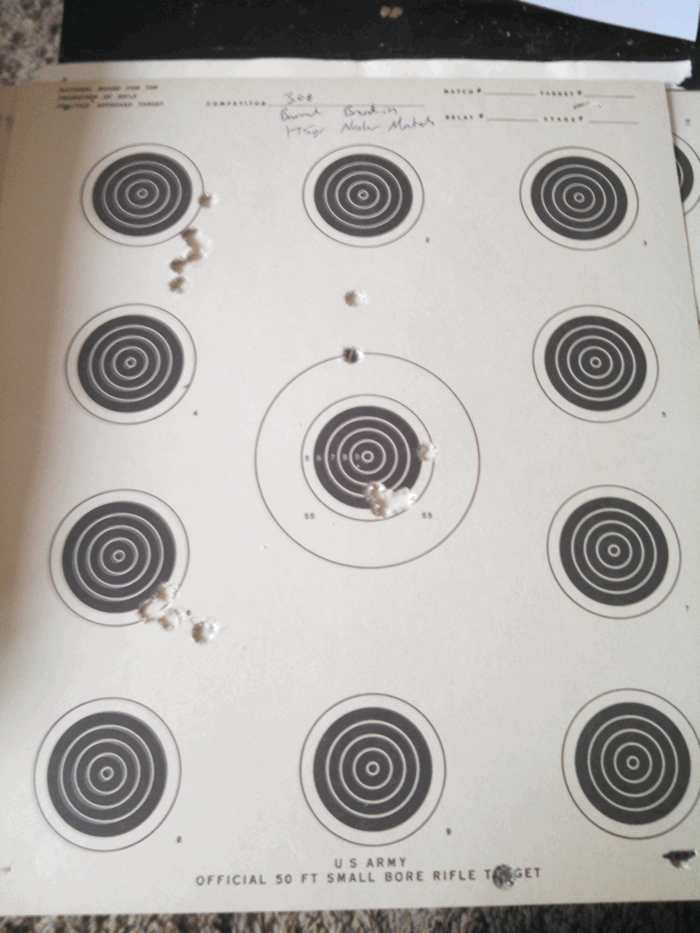 ---
12/21/2014 8:39:29 P.M. Mountain Standard Time
Subj: Remington 7400 autoloader conversion / stabilization
Carl, et al, Remington 7400 autoloader conversion / stabilization
I, TR Lackey, am providing well deserved positive feedback to you and your team. Customer service from beginning to end is outstanding. When assistance was needed, from pre shipment requirements, (ffl documentation in hand) to negotiating with local usps post masters, thru gentle and humble dealings with, less than knowledgeable, nor armor experienced, customers. To ensure a comfortable experience for the customer. The product is outstanding, I find the end product to provide advertised results, and the weapon system is an impressive product at the range and in the field.
The weapon shot consistent 1/4" MOA.
I was also very satisfied with the reduced recoil and sound .
I most respectfully submit this praise to the accuracy system team, and await your response at your earliest convenience. I am very pleased, thank you.
Sent from my NOOK trl1616@gmail.com
---
12/11/2014 9:20:40 P.M. Mountain Standard Time
Subj: Jordan Funk rifle....
Carl:
Mini 14 Rifle looks great---and Wow! What a test target! Excellent job timing the flutes, the front sight and the forearm screw. I don't imagine that is easy to do. Again, thanks again for your fine work. Can't wait to get 'er shooting.
Thanks again and Merry Christmas,
Jordan
robjordan@citlink.net
---
12/1/2014 9:17:16 P.M. Mountain Standard Time
Subj: Invoice 1000587 from Accuracy Systems, Inc.
Carl, your work is outstanding! After break-in per your instructions I was making consistent shots at 275 yards with my AR 15 upper you built. Thank you for your expertise! Next project is a 7.62 upper for this lower, can you provide that? With appreciation , Scott helma@hal-pc.org
---
11/7/2014 7:04:26 A.M. Mountain Standard Time
Subj: Mini 14 bedding
Hi, First you did a trigger job recently for my Mini 14 that came back excellent, really nice feel, great let off.
Sincerely, Howard Smith
tumblerkidd@msn.com
---
11/5/2014 6:29:10 P.M. Mountain Standard Time
Subj: Joe Zurek mini 14 received.
Hi Carl,
Excellent work on the rifle. The trigger turned out really good. Here's a pick of its final configuration. Atlas bipod and 6-18 Leupold mark AR.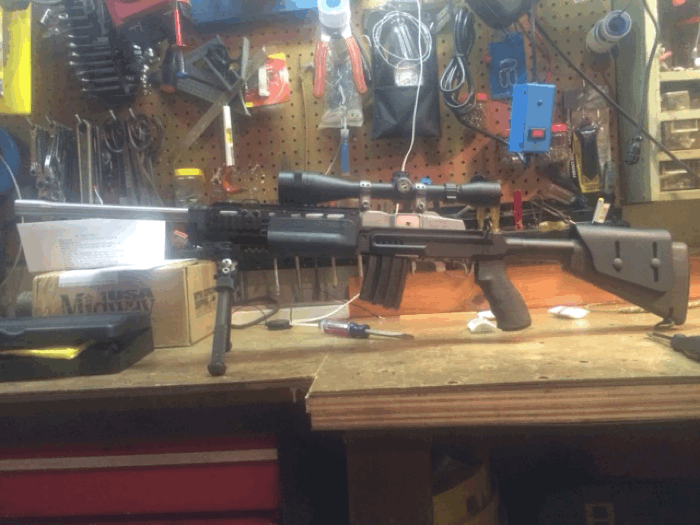 Joe Zurek foogoo1@att.net
---
10/27/2014
Subj: gen 4 gas block and shock buffer
Hey guys,
Just a note to tell you that I received my Mini 14 gen 4 adjustable gas block and shock buffer for my Ruger ranch rifle and got the results you said it would give! It made a word of difference and rifle shoots much smoother and brass lands 6 feet away. It is a very noticeable difference.
Thanks for a good product,
Leo bailey
owiestar@aol.com
---
10/20/2014 7:50:03 P.M. Mountain Daylight Time
Subj: Jordan Funk Mini-14....
Carl:
The Mini 14 trigger is very, very nice. Excellent work.
Jordan Funk
robjordan@citlink.net
---
10/19/2014 11:09:00 P.M. Mountain Daylight Time
Subj: Recent Trigger Job
I just wanted to thank you for the quality work, and fast turn around time on the trigger job you recently did on my old accurized Mini 14. The first stage take up is lighter and smooth, and the trigger breaks at about 3.5 lbs. or so and is perfect, no creep at all. Also the trigger over travel stop is great, and very nicely done. Thank again for a very professional, and fast job.
Phill pbrannon@pldi.net
---
10/12/2014 3:58:21 A.M. Mountain Daylight Time
Subj: My ar10 upper
Just wanted you to know that my 308Win. AR10 upper that you re barreled for me is great. It is shooting sub 1/2 MOA. Just got done shooting at 400 yards with 6 shot group that measures 1.79 ". I think the gun can shoot better than I can. Thanks for the great work. Mark Remsburg
Lake City, LA
remsy1@hotmail.com
---
9/18/2014 5:12:33 P.M. Mountain Daylight Time
Subj: Re: Mini 14 trigger job
WOW, Mini 14 trigger job.
No sooner did I inquire but it came in the mail.
The priority mailer was pretty ripped open but all was well inside.
I installed it and really like it.
What a huge-huge improvement.
Great Job.
Thanks again.
Now to bed the rifle and try it out at the range.
Russ Taylor
---
9/8/2014
To all,
Since the return of my Mini 30 a few weeks ago, commitments kept me from evaluating the performance of the modified weapon. I had the good fortune of shooting it yesterday.
The weapon is not scoped; however, a holographic sight is "scout" mounted. The first shot, target at 50 yds., surprised me for I just thought of squeezing the trigger and it went off. WOW! The second two shots were fired with little regard for what I thought was an error on my first shot. Inspecting the target proved your craftsmanship ... "cloverleaf" capable of hiding with a dime! The gun is new, factory barrel and it opened the groups with continued shooting ... fouling no doubt. However, by the end of the session no group was larger than 3" at 100 yds. with just a sand bag supporting the forearm!
My deepest thanx for all at Accuracy Systems Inc., we will have a continued relationship.
Respectfully,
Mark D. Gessler
Project Manager
Email: MDGessler@cdmg.com
---
8/21/2014
Carl,
It was my pleasure working with you and I sincerely appreciate the exemplary customer service.
As instructed, please find the attached .pdf which is the signed copy of the invoice.
I am anxiously awaiting my Mini 30's arrival and will give you an update when fired.
Respectfully,
Mark D. Gessler
Project Manager
---
Sent: 8/20/2014 4:51:37 P.M. Mountain Daylight Time
Subj: Mini 14 Harmonic barrel Stabilizer II with adjustable gas block.
Carl, just finished cleaning the rifle. Was at the range today, and fired 2 five shot groups that measured 1" and 1 ⅛" @ 50 yards. These were 5 shots 10 sec.. You have saved the rifle. I am very pleased. The trigger mods were well worth the money.
Thank you, thank you , and again thank you.
I have the ranch rifle; I have not fired it. I don't expect it to preform at all. I would like to have you build something out of it. Haven't decided just what. I'm still thinking.
Very pleased,
Harry Kirk
hrkirk@cox.net
---
8/4/2014
Subject: Follow up on trigger job
Carl,
The Mini Thirty trigger feels and looks good. It checked approx. 3 Lbs. 12 Oz and very consistent. No pre travel, nice clean let off with minimal creep and no perceptible over travel. Looks like both secondary and primary sear hooks have been reduced in height, positive secondary angle, about neutral on the primary and I assume the secondary was reworked to keep spacing with the primary. Nice cleanup work and I really do like the wide accessory shoe.
Thanks,
Joe D'Alessandro [mailto:joe@realguns.com]
---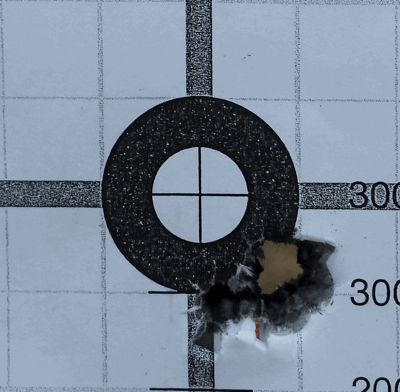 8/4/2014 8:40:52 A.M. Mountain Daylight Time
Subj: Remington 700 3 Port Maxi Brake & Trigger
Carl, once again you took an average rifle and tuned it into a remarkable one. The attached photo is 5 shots at 100. The muzzle brake let's me stay on the scope and the trigger is so nice. Thanks again.
---
7/28/2014
I just got my mini-30 trigger job, and is everything I expected and more, couldn't be any better.
Thanks for making my little rifle perfect.
My hunting buddy is also very impressed.
M. Kriss Anderson
kriss1942@frontier.com
---
7/24/2014
Mini 14 trigger job
Just got my Mini-14 trigger back.
Wow, what a difference!
I can't wait to get it out to the range.
Thanks,
Ken
kccummings3@yahoo.com
---
7/11/2014
I know you guys are too busy to read this stuff but I just wanted to tell you, briefly, I got the Gen 4 gas block yesterday and installed it last night. Went out on my back yard range today and Holy Cow! That thing made a difference. I can actually find my brass now. Thanks for such a much needed product. Someone at RUGER should take notice.
Ya'll have a nice day,
Tom Smith North Carolina raminator_2@charter.net
---
7/8/2014
Subj: David Burrows Rifle Remington 700 308Win. ASI Custom
Hey Carl last week I made some loads for the rifle. I have a good round that always shoots great. . 30 thousandths back with vit 140 42.3 grains 168 smk on lapua brass fed match primers. there was a guy at the range with a 10,000 dollar rifle and 3000 scope. he was shooting 6mm credmore with his loads all worked up. everyone was watching him with all his gear. I had never shot that load thru your rifle till that day. I shot two 5 shot groups thru a hole less than a dime and three 3 shots groups no bigger than .4 of a inch. I crushed him. I didn't say a word. a few people started to look at those groups and looked at his and a couple guys were blown away. They wanted to know who made my gun. I almost didn't want to tell them. The guy with the rile saw those groups and was shocked. I told him I only shot once or twice a month max. Your rifle has a tough cold shot it can be anywhere between 3/4 low to 1.25 inches low but after that money. I was going to play with the load but I think I should just leave it. It is easy to shoot that rifle most people could do that with just a little practice. I have a bench 308 that weighs 1.5 lb more and it was custom. Your rifle is easier to shoot so it's more dead on all the time. The bad part is I don't want to shoot your rifle it's not to often you get one like that. You could make 10 and that one would be one of the 2 best. Thank you. Hey how long will it stay that accurate if I keep it clean and don't get it to hot. 2000 rounds maybe.
David Burrows
davdurro@aol.com
---
6/16/2014
Subject: 7400/750 Freefloat Forearm & Scope rail
Hi. Picked up the package yesterday. What an incredible piece of machined metal you have there =D Even better then what I was hoping for. Thank you so much. Fits like a glove with perfect and tight tolerances.
Best regards // Kris.
PS. Will send some pics when it is ready And when I have the scope mounted.
---
Sent: 6/15/2014 10:50:55 A.M. Mountain Daylight Time
Hi Carl,
Just wanted to let you know I'm very happy with the .325 wsm upper you made for me. The fit and finish is excellent. It functions perfectly and that muzzle break is very effective. Couldn't tell you how it groups yet because I haven't done any real "work" with it yet besides the break in and the first three of six sets of loads I'm working up. I was just shooting dirt at 300 yards today though and that is a impressive round! It makes a wild sound ripping through the air. Here's some pics of what it ended up looking like.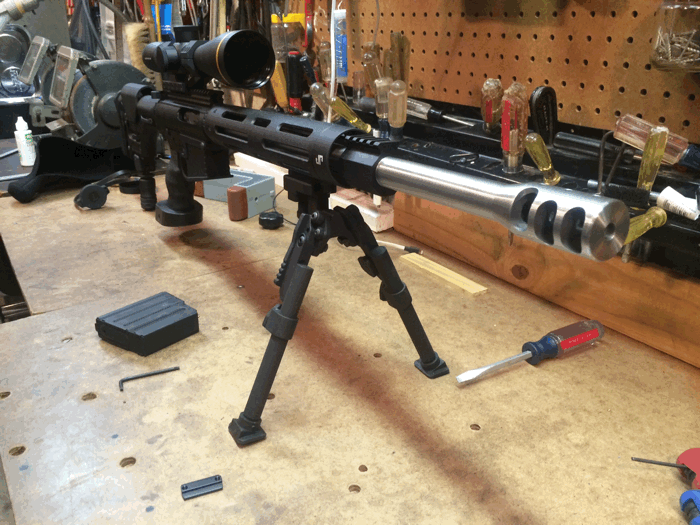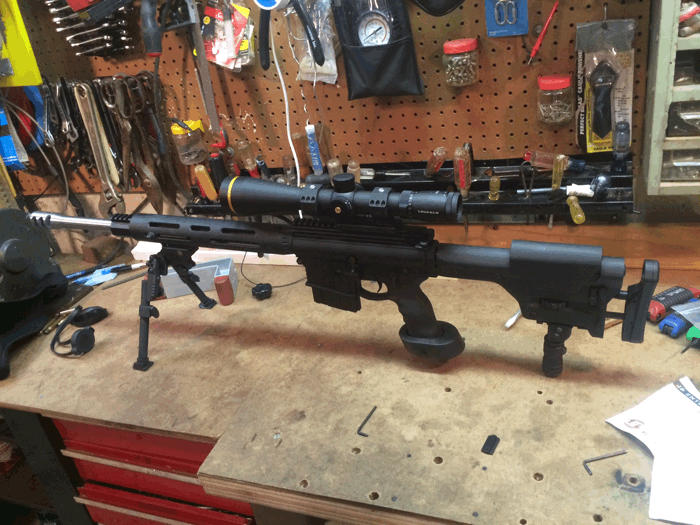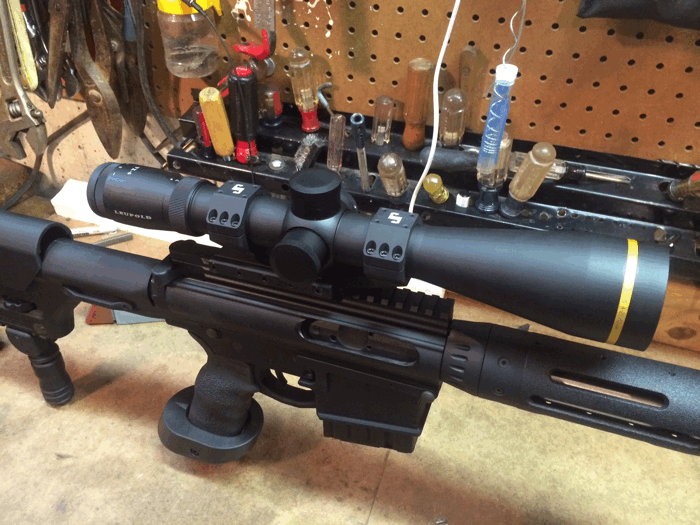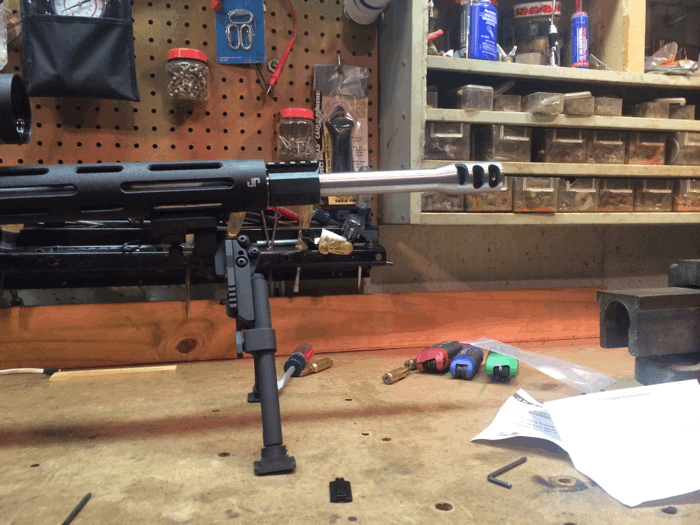 ---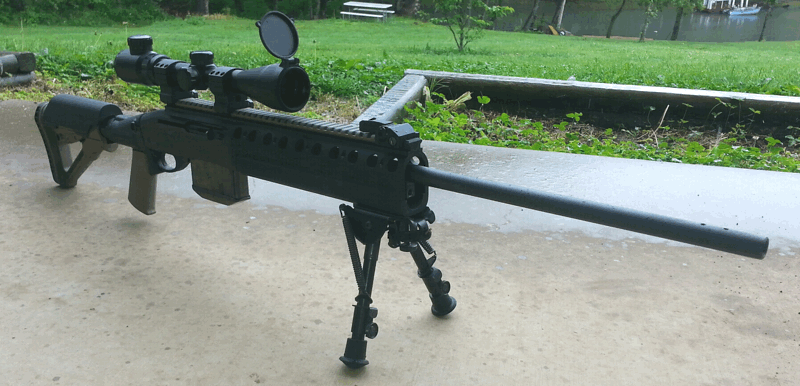 6/5/2014
I love your free float forearm product it has totally changed the look of my rifle.It shoots great and I really like the look of it now. I still have a few things I want to do it and would like to know what you think about it now. I have attached a few pictures of it now. Again thanks for a great product.
joker28970@yahoo.com
---
Sent: 6/3/2014 10:50:55 A.M. Mountain Daylight Time
Subj: Trigger job
Hi
Thanks so much for the awesome trigger job and ammunition suggestion. My mini 14 ranch rifle and I are much improved, it is now a joy to shoot.
Glen Noble
Cortez, CO we7c@hotmail.com
---
5/21/2014
Carl, I received the Ruger Mini 30 rifle and tested with Winchester boxed ammo. We had no problem getting 1" to 1.5" accuracy at 100 yards. This is much better than this rifle was capable of when new or even when "broken in" with several hundred rounds of use. I am now confident it is a useful hunting rifle here in upstate New York. The new barrel and hardware look very good and the trigger is far superior to stock. I am looking forward to many years of enjoyable shooting with this rifle. Thanks for the good work.
Phil Passero philpassero@gmail.com
---
5/20/2014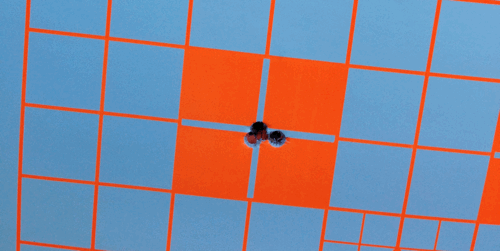 Dear Mr Emmite,
Apparently you guys know what the hell you're doing.
I finally got out to sight in the Mini 14 that you modified (bull barrel .223 Wylde/bedding/gas block) for me. I had only just bore sighted it, so today was about dialing it in a little and I shot from 50 yards, just balancing the gun loosely on a bench rest.
I've attached a phone pic of the results.
Needless to say, I'm happy with it.
Keep doing what you're doing.

Thanks again,
GR, Portland geoff.rogers@comcast.net
---
5/18/2014
GOT THE AR UPPER ON FRI 16 MAY. VERY IMPRESSED. WILL E-MAIL YOU THIS SUMMER ABOUT A LOWER.
THANKS
JOHN PATRICK ejshadow7@comcast.net
---
5/9/2014
Thanks Carl
The Mini 14 trigger job and set screw feels great. I got a good tighter grouping with iron sights at the range. The strong spring and buffer worked great too.
Appreciate your work and service
Braulio mabagani@gmail.com
---
5/5/2014
Carl,
Been about 2 years from the date I placed my order for my 243 WSSM upper and just wanted to tell you I love it and I made a video for you to use how you like.
Thanks
Bryan
243 WSSM Upper Video
---
4/30/2014
Hi! Thank's for the Harmonic barrel Stabilizer 2 with integrated adjustable gas block I bought from you. Work's great. Good service. I would like to Order more parts from you.
Best regards,
Roy-Ove Aursland roaur@statoil.com
---
4/21/2014
Hi Carl,
After the trigger repair, I really got to enjoy shooting this rifle. Accuracy is awesome, function is 100%. The work you guys do is great. I hadn't shot it much before sending it to you. I'm just now truly appreciating the wonderful mini 14 design, love it.
I did however make one terrible mistake, the 300 BLK suppressed has no business in the mini 14, should have taken your advice and stayed with the .223. I have aquired a Model 700 SPS in 300 BLK suppressed, and it is everything I wanted from that cartridge and that application. I know now that bolt action is THE way to go for suppressed blackout.
Fortunately this is not a mistake I have to continue to live with. Will you please send me an estimate to re-barrel in.223? I would like stainless steel with a Wylde chamber, 8" twist, 22" long. Staying with the .750" diameter I can reuse my gas block, but please modify it to adjustable. The bedding is perfect, the trigger is perfect, just the barrel and gas block should make me very happy. I'm guessing you are still behind on your job times, but I don't care. I must do whatever need be to undo my foofoo.
What say you?
Larry Crusenberry
larrycruse@charter.net
---
4/10/2014
To whom it may concern,
I got my Mini 14 trigger assembly back and assembled it back in the rifle, and what a difference in dry firing! Can't wait to put some rounds through it.
Thanks,
Lloyd Hill
---
3/31/2014
Sir,
Installed my recent order of the Harmonic Barrel Stabilizer II with the adjustable gas block on my Stainless 18.5" barrel (Model 581) Mini. The Accuracy on the gun has increased remarkable.
------I also have a Model 581 Tactical 16.5" barrel Mini and want to apply the same system to that gun...... Which one of your Harmonic Stabilizers do I need to fit that gun as the barrel is shorter? I would want the one with the "FLUSH" gas adjustment....
Thank You,
E.T. Webb Nedviv2@aol.com
---
3/31/2014
Hi there
Been shooting this gun quite a bit. The work you did on it has really made it into a tack driver! Thanks! Thanks again for your help with the gun
-- Hank halicandri@mohonkpreserve.org
Rifle above customized with Acciracy Systems Ultra Match Air Gauged Barrel. Complete Package $799.99
Proprietary Barrel - Button Rifling Air Gauged 416 Stainless or 4140 CM Blued Steel.
Barrel diameters- 1" Bull, .875" Varmint, .750" medium.
Length from 21" to 24"
Twist rate to be determined by us depending on the weight & caliber of bullet. Finish on barrel satin matte or brushed.
3 point steel bedding pillars
11° Target crown
New operating rod where needed or upgrade yours
True bolt & action if needed
3.5# match trigger with take up adjustment screw.
New over sized hand guard to fit thicker barrel
New gas block, sling swivel, gas pipe and operating rod cup bushing
Sub -1.25 MOA accuracy guarantee (1.042" = 1 MOA) 3 shot group @ 100 Yards with factory selected ammo. (Capable of Sub-MOA accuracy)
Sub -1 MOA accuracy guarantee for 1" or .875" Diameter barrels 24" long. (1.042" = 1 MOA) 3 shot group @ 100 Yards with factory selected ammo.
Calibers available @ this price. .223 Rem., 5.56 NATO .222 Rem, .204 Ruger, 6mm X .223, .17 Rem., 300 Black Out. Others caliber's call for pricing and availability.
---
3/24/2014
Carl,
Got the supplies from brownells and went shooting this weekend with the AR 300 WSM. Wow, you guys do some nice work.
Thanks again,
Andy Hytovick
cabhy@aol.com
---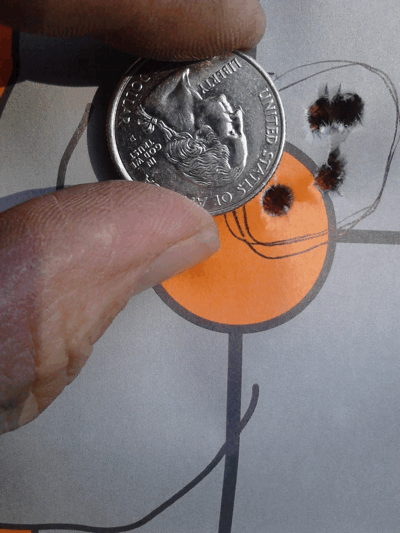 3/24/2014

Quarter size group

Good morning Carl! Just had that itchy trigger finger an couldn't wait to see how my Mini 14 rifle shot with the new stock an all the work you put into it. Quater size group from a sand bag but shooting over the hood of the pickup so to say the least wasn't all that stable. Took a while to kind of get used to the new trigger pull. But all in all. I'm happy happy happy an ready to cook with peanut oil. Thanks for all your excellent craftmanship an speedy turn around.

Jim walker itrapitall@gmail.com
Burns, Oregon
---
3/19/2014
hey Carl, i received my barrel today and its amazing. the brake is perfect and the trigger is even nicer than i hoped, all of your work exceeded my expectations. I wanted to let you know I have finished my build and i actually put my second shot at 100 in the same hole as the first bullet made. third was touching those two with factory ammo! man I cant thank you enough. For the work on my Remington 700. Thank you Mark. mark.pachowicz@gmail.com
---
3/17/2014
Good Afternoon Carl!
Just received my Ruger Mini 14 rifle back from Accuracy Systems. I love it! Can't hardly wait to get back out and run some ammo through it again. I have already put the scope and sling back on and getting the itchy trigger finger. Again Thank you for all you have completed on my shooter.
Jim Walker
Burns, Oregon walkerscustomfence@gmail.com
---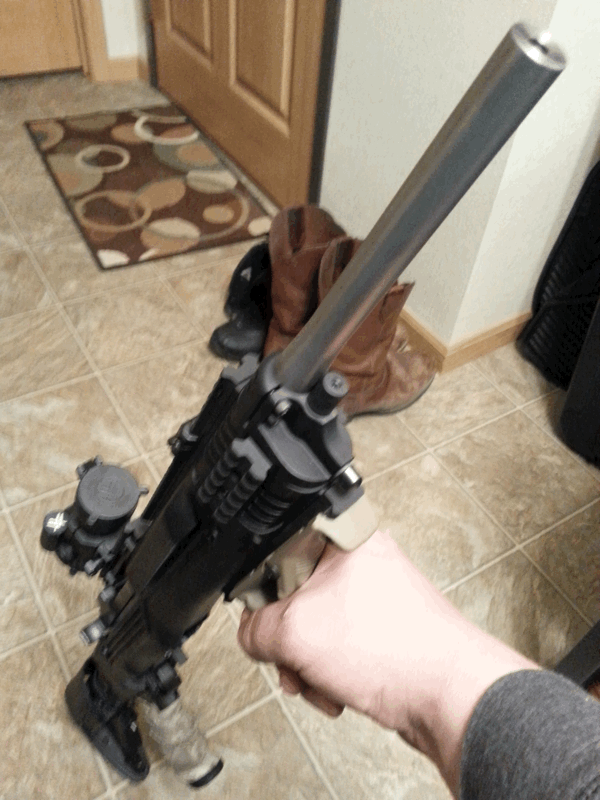 2/5/2014
Hi Carl,
Just wanted to say thank you for a wonderful job on my mini 14. The trigger work is amazing and coupled with the adjustable gas block and new barrel and the rest of the conservative package it is wonderful to shoot! keep up the good work!
Russ Davis russ4529@gmail.com
---
2/1/2014

Hello,
I just finished putting my folding mini 14 back together using your offered products, I thought she turned out beautifully and just wanted to share it with you. Thanks for the great mini 14 products. The rifle is an original folding mini 14, I shortened the barrel to a threaded 16" moving the front sight back also And used your barrel stabilizer II, extra power guide spring, w/ shock buffer, extended ASI mag release and topped off with an Amega Mini-Scout Mount. Thanks for all your help and great products

Respectfully,
Kenneth Cherry
Cherry's Tactical Custom Firearms
Crossville, TN. 38571
Ph# (931) 397-9107













---
1/29/2014
Hey guys im back for another rifle. The accuracy on the mini 14 you build me is ridiculous. Im looking for a mini 30 this time, I don't have a base rifle to start with so if you could build me one from scratch that would be awesome. Do you have a barrel that is geared toward surplus ammo? I will put together a list of things i would like and if you can incorporate it it would appreciate it.
oceanghost27@gmail.com
---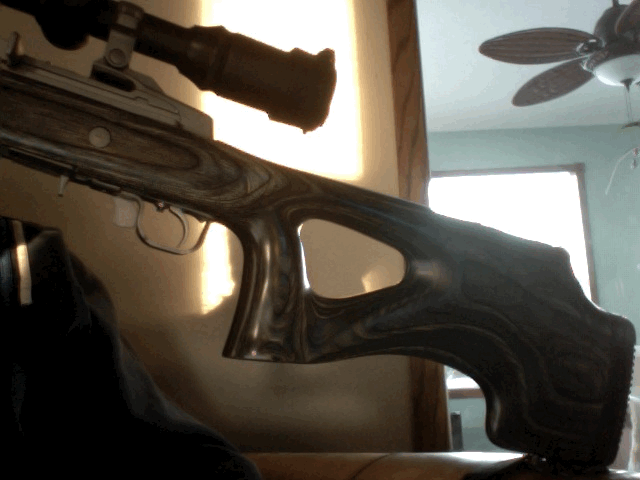 1/29/2014

Hey guys,

I have one of your mini 14 rifles, it shoots amazing and is so gorgeous!! I love it and would like to get a mini 30 that looks exactly like it. From the big compensator/dampaner on the end of the barrel to the thumb hole stock. The thumb hole stock I have right now is the grey color. This is the only pretty gun I have and it needs a friend in .308 is this doable?

Sincerely,

Ian
contender3583@gmail.com
---
1/29/2014
I see you are on line, and thought I would email you. I went to the range on Monday, having completed the barrel break-in. I now have about 150 rounds through the gun. Shooting Lake City 55 grain NATO, I routinely got 1" groups at 100 yards shooting from a single sand bag and sitting at the bench. That is really, really good for an old guy like me! I sent my older brother a copy of my ¾" group, just to make him jealous.
I am very pleased with the job you did on my Mini 14. Just for comparison, I had been shooting 8-12" groups at 100 yards. That is the best I could do. So you know what a really good shot would do with this gun! It is my prize!
David Budzinski DABudzinski@aol.com
---
1/29/2014
Hi Carl,
Great job on my mini-14 trigger. Very pleased. I didn't know a "mini" trigger pull could get that good! What a difference.
Thanks,
Larry Reading, Pa llunger4@msn.com
---
1/28/2014
Carl, I received my Mini 14 rifle late today. It's a thing of beauty. It exceeds my expectations. If it shoots as good as it looks I'm a lucky man. Thanks again for all your excellent work. Just wanted to let you know it arrived in one piece and I'll keep you posted on working up a load after my break in period. Thanks again, Tom Kolouch
---
1/9/2014
Carl, This is Bryan from California. Just wanting to see if you going to be at shot show this year? I am also trying to talk a friend in to having you build an upper for him. :)
Well I have dropped a lot of game with the AR 15 243 WSSM so here are a few photos for you.
bryan.fixmypc@gmail.com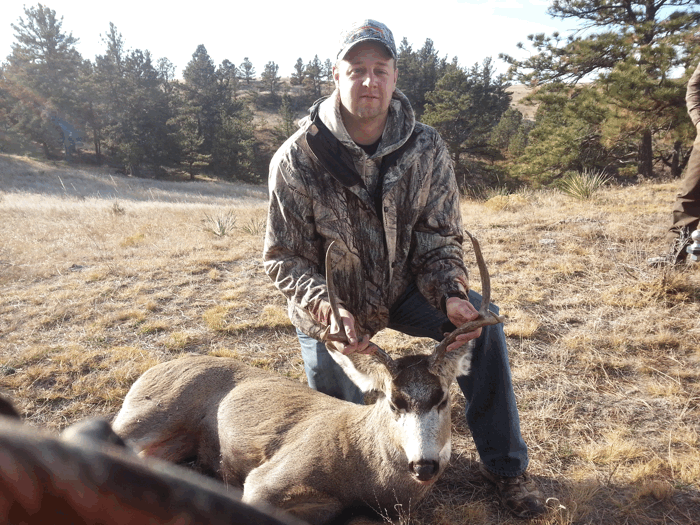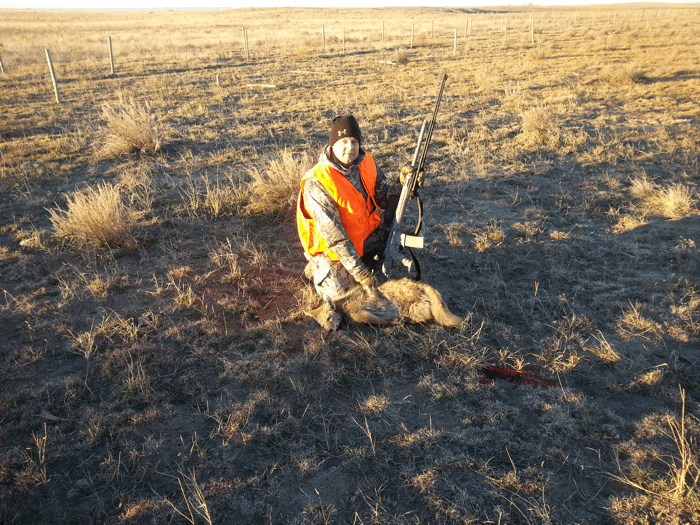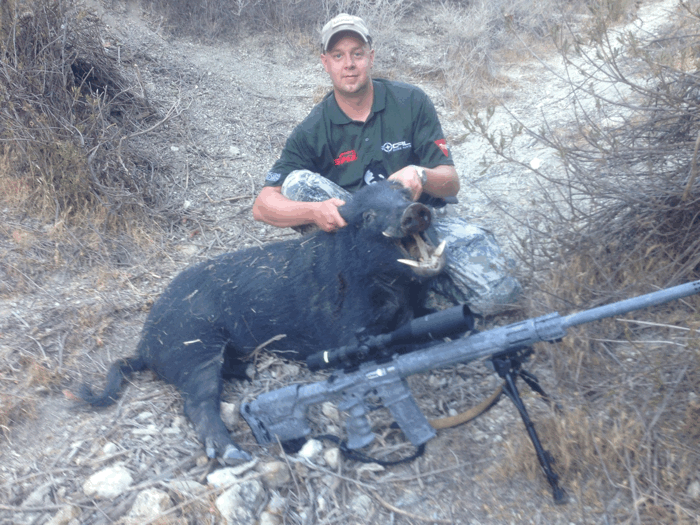 ---
1/8/2014
Tried both of the new trigger jobs for the mini 14's and they work fantastic. My wife and I shoot more accurately. Thank you michael.a.lindsley@boeing.com
---
1/3/2014
Carl, I received my Remington 700 barrel today and its amazing. The brake is perfect and the trigger is even nicer than I hoped, all of you work exceeded my expectations. Thank you so much for your help.
Mark Pachowicz mark.pachowicz@gmail.com