Barrel Break-In Procedures
Thank you for you purchase of an Accuracy Systems Barrel Conversion. While all of our barrels are of high quality, a new barrel will shoot best if careful attention is given to proper break-in. The bore of your new barrel has "pores" and as you break in the barrel these "pores" are smoothed over. A smooth barrel always cleans up better than one that isn't.
Equipment needed:
Purchase 2 or 3

Hoppe's Bore Snakes

suitable for the caliber of your rifle.
Cleaning & Polishing compound to be used:

Brownells

JB Bore Compound

(you can get this product by calling Brownells @ 1-800-741-0015)

we recommend using this for the entire break in and after the break in it can be used as a barrel cleaner.

Automotive Brake Parts cleaner (For cleaning the Bore Snakes for reuse)
Break-In Procedures:
Clean barrel after each 3 shot group for the first 60 shots or more if needed. Use one of the Bore snakes with the

JB Bore Compound

mentioned above. Put the compound in bush area of the snake. Pull the bore snake through the rifle from chamber to muzzle 3 times. Follow that up by pulling the clean, dry, second snake through 2 more times.

We also recommend 0000 steel wool wrapped around the brush area only this will help lap the barrel even further reducing fouling and speeding the barrel break in. Make sure you use the JB Compound liberally on the steel wool! It is not needed behind the brush area.

Check to see if there is any visible copper fouling. The barrel will have an orange or brown tint inside the barrel if it is fouled. If copper is visible in the barrel a copper

solvent

will be needed.
NOTE: If Bore snake is used for different chemicals make SURE to completely clean it with the brake cleaner to remove any cleaning solvent from

step 1

before using the copper solvent! Mixing of chemicals could have an adverse effect on the barrel. Three bore snakes are recommended for ease of break in. After brake cleaner has been applied to the bore snake, wring it out to remove the excessive brake cleaner. You may have to repeat this process until the snake is completely clean. Allow the bore snake to dry out. It should evaporate with in about 15 minutes in direct sun light.
Take one of the clean dry bore snakes, soak with copper solvent, and run it through the rifle from chamber to muzzle 3 times and let sit for about 10 minutes. Follow that up by pulling the clean, dry, snake through 3 times more.

REPEAT TILL ALL COPPER IS GONE!

For the next 30 shots, Clean the barrel after each 3 shot group following the above initial break in procedures. The Barrel should be finished with the break in process after 90 rounds. However if you still notice fouling you may have to continue the process until fouling is at a minimum.
Revert to your normal cleaning schedule. Make sure to continue to always clean your barrel during and after each outing to insure the optimum accuracy out of your rifle.
**The beauty of brake parts cleaner verses
Gun Scrubber™
is that the brake cleaner can be found at any automotive store at ½ the cost of the
Gun Scrubber™
. Brake parts cleaner works just as well and dries just as fast.
Thank you, Accuracy Systems Inc.
---
MAKE SURE

YOU FOLLOW OUR BARREL BREAK IN PROCEDURES!!!



FAILURE TO DO SO

WILL DAMAGE THE CROWN AND INTERNALS OF THE NEW BARREL YOU JUST PURCHASED!!!



WE WILL NOT WARRANTY

AN ACCURACY COMPLAINT IF A RIFLE IS SENT BACK AND WE FIND YOU NEGLECTED TO FOLLOW OUR minimum!!! There will be a minimum service charge of $132.50.



WE WANT OUR BARRELS

CLEANED FROM THE BREECH END ONLY WITH A BORE SNAKE BY

HOPPE'S™

OR A

OTIS TECHNOLOGY, INC.

CLEANING SYSTEM SNAKE. PULL SNAKE ONE DIRECTION ONLY AND THAT IS TOWARD THE MUZZLE!!



SEE

THE INSTRUCTIONS WE SUPPLIED YOU!!!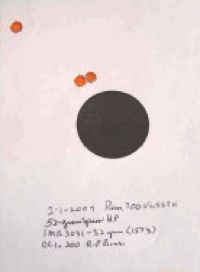 Distinguishing fact from fiction is as challenging in the world of firearms as it is everywhere else. Here's one perspective on firearm cleanliness, from author Tom Tabor in his Gun Digest 2013 article, "Ten Shooting Myths Exposed":
It's always good to clean your gun and keep it in top-notch shape. For shooting consistency, though, it's best to foul the bore by sending a shot down the barrel prior to heading out on a hunt. Why? Typically the first shot from a clean bore will impact in a different spot than the follow-up shots. This was the case in the photo, with the clean bore round printing high and to the left.
"How could anyone make an argument against firearm cleanliness? Well, I can think of only a single instance when a little dirt might be a good thing, and that is inside your gun barrel when it comes to heading out for a hunt. One of the factors necessary for consistent shot placement has to do with the consistency of the firearm bore. Simply put, a round fired through a clean bore will almost always impact at a different point that those shots that follow - and that first shot is often the most important you will take in a hunting situation. I have frequently found the amount of variation can be from about an inch all the way up to three or four inches at 100 yards. If you never shoot past 50 yards, this might not be an issue of concern, but, if you find yourself trying to pull off a record shot at 400 or 500 yards, it could easily become a substantial problem to overcome. I like to remove all the variables I can and, in so doing, I always send a round down the barrel and foul the bore before heading out to hunt."