Testimonials 2010
Here are a few YouTube videos of Accuracy Systems Inc. Conversion Rifles filmed by owners.
Suppressed 243 WSSM Vapor trails & 400m Practical Shooting
Mini 14 300yds on steel plate
The custom Mini-14 Ruger again
Ruger Mini-14 Ranch Rifle Accuracy Upgrade
Here are just a few of the many positive responses we receive on a weekly basis.
---
12/08/2010
I want to thank you guys for the great job you did on my Mini back in Jan 2010 while I was skiing. You did a rush job for me but the gun shoots great. Went deer hunting in South Dakota in Nov and shot a 3x3 between the eyes at about 75 yards and a heart shot on a doe at about 150 yards. The accuracy is outstanding. Most people say a .223 is to small for deer but with the proper rounds and accuracy it works pretty darn well.
I would recommend your shop to anyone who needs a gun worked on.
Thank you
Dutch Leer
dutchleer@bellsouth.net
---
12/06/2010
Carl,
I finally got to shoot my rifle last Saturday morning in Missouri while visiting my son and his family. My first shot hit the same hole as a shot by a good friend who shot first (we were both aiming at the same spot on the target). That is simply amazing!! A third round hit somewhere else because the shooter was not aiming at the same spot. The third shooter did hit our holes later when aiming at the same aim point we used on the first 2 rounds. Again amazing!!! We were only able to shoot 12 rounds because of my flight time back to DFW. My friends wife also shot it and was amazed at the lack of recoil the .270 had. You could shoot all 90 break-in rounds in a day and not feel it the next day.
My friend's son works for a guy that has been looking at your site for a while. He wanted to see the rifle and shoot before ordering a rifle but he was out of town. I think he will buy a rifle on my friends recommendation.
It is beautiful and shoots great. I can't wait to finish the barrel break-in and see what kind of groups it can shoot.

Rifle Specs:
Ultra Match Barrel - Satin gray stainless 20" x 20" tapering to .875" @ muzzle. Fluted & 360° Maxi Muzzle brake.
Single stage 2 lb. trigger
Stock - H-S Precision PST26F Prairie grass cameo stock ** Available in black also or other colors.
.270 Winchester
Jerry Clayton
hostingtexas.net
(host and webmaster for Accuracy Systems Inc.)
---
11/26/2010
Hello Carl,
Excellent Job on my rifle; everything exceeded my expectations. I'd like to know the exact measurement of my rifle's muzzle thread. I'd appreciate it if you could provide me with this information.
Thanks,
Matthew Flores
matthew.anthony.flores@gmail.com
---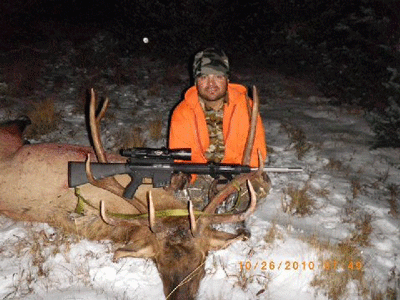 11/23/2010
Carl,
I got to take my new rifle out for 2nd season elk here in Colorado. I am very pleased with the LR-308 upper in 300wsm that you built for me. I shot the bull at 363 yards up hill, and the 180 grain accubond hit him right behind the shoulder. I am very pleased with how accurate and reliable this upper is. I have had no failure to feed or eject with those short fat cases out of approximately 100 rounds. Keep up the good work
Luke from Denver
lukev_22@hotmail.com
---
11/22/2010
Carl,
Got my mini-14 it looks great. Took my time doing the break-in with cheap ammo and saw a big difference even with that. I gave the gun a good cleaning. Just got back from the range. WOW!! Tack driver. If I miss the bulls eye it's me not the gun. Holds 1 inch group with ease. I even did some 3/4 inch groups. Worth every cent. Happy gun owner.
Thank you.
Ron Shingledecker
Palm Bay FL.
jillandron@cfl.rr.com
---
11/20/2010
Carl,
Just wanted to get back to you on my 3 rifles.
All three triggers are great. Right where I wanted them. The muzzle break on the 30-06 looks fantastic and works very well. I fired some heavy M1 Garand loads I had left over through it and I think I could shoot them all day.
Thanks for the nice work.
Mike.
Michael L. Casmey
Lieutenant Colonel (RET)
U.S. Army, Aviation.
mlcasmey@hotmail.com
"All that is necessary for evil to triumph is for good men to do nothing." – Edmund Burke
---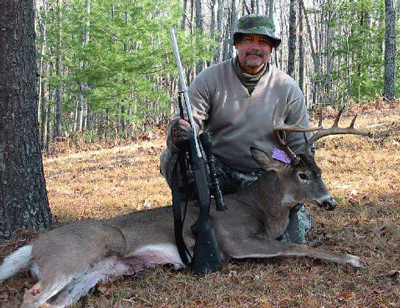 11/19/2010
Carl,
Here's a 5 1/2 year old Michigan Swamp Donkey I took with the Remington 7600 rig you built for me in 2008. The rifle is awesome and shoots better with time. Still getting sub 1" groups at 200 yds with plain old Remington 150gr PSP Core Lokt ammo. Imagine what I could do if I were a hand loader....
Best regards,
Bradley Whiting
Applications/Proposal Engineer
FLEXIBLE AUTOMATION INC
DESK 810-742-8540
CELL 810-278-2502
FAX 810-742-8611

bwhiting@flexautoinc.com
---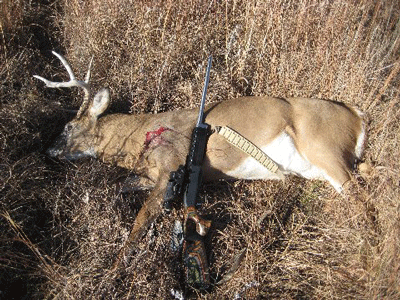 11/15/2010
Dear ASI,
I love my new 750! Thank you! I spent a lot of time this summer breaking in the barrel. I actually shot the full 90 rounds through it and cleaned it after ever three rounds. With the eotech and 4x magnifier mounted to it is super fast. This optical speed compliments the unbelievable accuracy you build in. I am completely satisfied. Attached is a pic of the first deer have I shot with the rifle (actually this morning). It coincidentally is my first buck in Texas as well. Thank you for a job superbly done. Take care.
Sincerely, Erik
---
Hi there 11/2/2010
I own a mini 14 and I'm told that you guys done heaps of work on it, It is an amazing toy!!!!!!! and I've had people ask me what has been done to it as they are wanting one to and I just don't know what to tell them?
Do you keep records of rifles you have sold?? It has a number on the side 580-29267 I would be most great full if you could tell what work you have done to this rifle and what it would cost to build another just like it.
If you need more info please let me know
Thanks Nathan O'Hearn
nathan_ohearn@xtra.co.nz
---
11/01/2010
Carl, I have only begun working on the break in of the 308, 6.5 next.
I just wanted to say, I have Never Seen an AR platform rifle as accurate as this rifle. It seems to get more accurate each time I clean the barrel as directed. I did want to ask about full cleaning. I am breaking the barrel, however, I would like to clean the camber and patch clean the barrel, is this acceptable? I don't want to do anything that could jeopardize your outstanding work.
Again, this was worth the wait two times over. WOW
Jerry J King
jerryk@skyward.com
Executive Vice President
www.Skyward.com
We strongly recommend following our cleaning procedures.
Click here to view the Barrel Break-In Procedures
---
Carl, I had you do my mini 30, the rifle is a tack driver!! Last week I went to the range when I got home I started to clean my guns when I noticed that one of the bedding bolts had sheared off. Can you recommend a fix for it. the rifle still shoots fine..
Thanks Daniel Hageman 10/15/2010
hageman1974@yahoo.com
---
Just wanted to drop you a note telling you how happy I am with the work you did on my Mini-14. Basically, you turned it from a piece of junk into a tack driving machine. Love the new trigger.
Thank You, Richard Richard.Paradisi@sce.com
Richard Paradisi
Water Systems Operator, Big Creek
PAX 78086
---
09/21/2010
Thank you for your great service on my Ruger Mini 14 .223, I enjoy shooting and impressing people with your gun. I would like to know if I should not strip the gun down for cleaning? Normally I disassemble the barrel/action from the stock and remove the operating rod assembly. Clean everything, lubricate with dry lubricant and re-assemble.
Thank you,
Roger Cooper -
labelitr@sbcglobal.net
We recommend full brake down every 300 rounds otherwise clean the barrel and take the trigger group out. Then blow out the trigger group with compressed air. Wipe the inside of the receiver down while the trigger group is out and the bolt area is exposed.
Thanks Carl @ ASI
---
ASI, Just got the Receiver and barrel assy last night, very happy with your work very nice, Thanks, a little story behind the gun a friend got it new about 2 years ago but never shot it and some how it got in the middle of a fight between his wife and him, I got it as a project, replaced the stock, top cover and trigger guard that was not easy to replace with those springs but now with the work you did this gun looks new again, Thank you was worth the cost.
Terry Wren 8/13/2010
trrywrn@yahoo.com
---
To let you know I did receive my rifle.
BEAUTIFUL !!!
Just beautiful workmanship.
thank you,
Mike Bubacz 8/15/2010
mrbopb@newnorth.net
---
Hey Carl, I am really happy with my gun and it is shooting very good, I believe I ordered a trigger shoe that did not get put on. If you could just send it to me , that would be great.
Thank you, You do really nice work.
Rod Vetsch 7/20/2010
rvetsch@directv.net
---
Dear Carl, I received my gun today, It looks great, can't wait to shoot it. Thanks for your help
Kristin Mertz 7/12/2010
Edgewater Exhibits, LLC
kristin@edgewaterexhibits.com
---
Carl 7/6/2010
After receiving my mini 14 and test firing it I am extremely satisfied. Thanks for the good job! I have a question for you. What is the largest bullet I can shoot in it with the 1x9 twist? And what is the smallest bullet like wise?
Dan Moore
moredan@sbcglobal.net
---
6/22/2010
Got the mini on Friday and shot it Saturday - very happy with the results and worth the wait, thank you. Got the scope dialed in at 50 yards and shot a total of only 40 rounds Hornady 50 grain V Max (didn't have a lot of time). Am wondering about any need to break the barrel in? I had to when I got a Krieger barrel for my AR. Also any recommendation on ammo for that barrel. I reload and use a lot of Hornady 50 and 55 grain V Max but have a good supply of off the shelf.
Steve McEllis
Senior Vice President
BFL CONSTRUCTION COMPANY, INC
steve@bflconstruction.com
---
Folks, 6/08/2010
I received my Mini 14 trigger group back from you a few weeks ago. The trigger pull is fantastic.
I have been trying out different ammo and have shot a best 4 round group at 100 yards of 1 1/8". That was with inexpensive PMC ammo. I never expected that from a Mini 14. Thanks again for helping that Ruger shoot well.
Harold Jones
Idaho Falls, ID
---
Carl, 03/22/2010
It finally warmed up enough for me to take my #001A rifle you built for me out. I only shot it thirty times because of the barrel break in process that slows things down. However, shooting a 123 grain Sierra match bullet in 6.5 Grendel, my final two 3 shot groups were both .75. Not too shabby.
This is a nice rifle, you really know what you are doing and I'm really pleased with it.
Laverne Woock
lwoock@dspmail.com
---
Carl, 3/7/2010
Wow! Wow! Wow!, words can not describe your talent. Sturm Ruger himself could not have constructed a better platform for his Mini 6.8 SPC. I am so impressed with the feel and performance. One thing that has always turned me off about a rifle, is that when shaken it you can hear the looseness, difficult to eliminate especially when running stealth missions. Your construction and attention to detail renders a completely silent state of the art firearm that has me choosing my MINI 6.8 over a Barrett REC 7 6.8 any day!
My first twelve shots after break in has me sighted into 100 yd tack driver with only a .775" inch - five shot group! Using Silver State Armory (SSA) 6.8 85grain Barnes TSX tactical load delivering a whopping 3050 fps!
You are truly a master at your craft, and I have got to say it, a picture is worth it's weight and here they are.
Thank you again for a remarkable piece!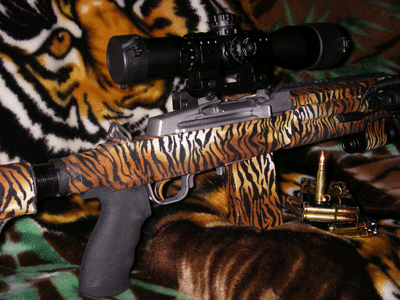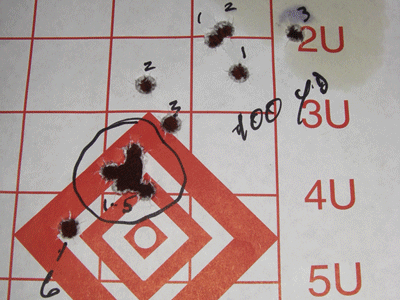 ---
Carl, I received my Accuracy Systems upper yesterday and have assembled it on to the lower I had put together for it. Just wanted to say I was very pleased with the fast shipping, the excellent packaging, and of course the high quality job you did on the AR upper. I haven't had a chance to shoot it yet but as soon as this wind dies down I will. I expect it will shoot as good as it looks. I've attached a photo of my finished rifle.
Thanks again,
Mike 3/1/2010
michaeldeal@sbcglobal.net
---
Carl, Thank you for the reply. Your company has a reputation for outstanding customer service and quality of workmanship. I've seen nothing that would lead me to believe otherwise. Looking forward to trying that trigger out! Thanks again.
W.T.Elrod Sr.
timorjc@gmail.com
2/18/2010
---
I received the block I ordered from you in 3 days, last Thursday. I installed the block on my Mini14 Target on Saturday Morning. I did have a bit of difficulty as the OEM gas pipe was slightly oversize in diameter and would not fit your bored hole. I attributed that to the anodize so I just reduced the gas pipe diameter slightly using 400 grit polishing cloth.
The result is impressive. I took the rifle to the range, fired 5 rounds with no adjustment. The Mini14 was throwing the brass about 15 feet. I then closed the adjustment screw ¼ turn and repeated. The ejection dropped to a little under 10 feet. I repeated the sequence (another ¼ turn) and the ejection dropped to an acceptable 5 feet. I then snapped on the my E&L brass catcher and fired another 5 rounds. I was still getting a slight dent in the case that I attributed to the cases hitting each other in the catcher. I turned the adjuster screw slightly more and fired another 5 rounds with NO denting whatsoever, just exactly the effect I had hoped for as I shoot hand loads exclusively.
Interestingly, I was able to reduce the blowback to the point of no ejection or basically a single shot, not that I would need that, but it is nice to be able to control the blowback gas to that point. The rifle is still holding ½" groups at 100 yards, (19.5 grains H-322/ 55 grain Hornady SPBT/C in TB Cases, maybe even a bit tighter with your gas block installed. I was able to completely obliterate the target center at 100 yards with no punches outside the center itself in very, very consistent 5 shot groups.
Your product is well thought out and addresses what I consider is a glaring fault in the Mini14 Target, the violent case ejection that renders cases that aren't reloadable. I now have a rifle that is every bit as accurate, if not more accurate as my Colt AR 15 without the temperament.
We will be doing business again.
Regards:
Daryl Davis
Flipmeisters Specialty Products, LLC
---
Hello, I just had the Mini 14, 3.5 pound trigger job (great job).
Thanks
M. G. S. 02/13/2010
Mike and Donna Star
---
16 January, 2010
Dear Carl,
I recently ordered your ASI Tunable Gas Block for my Mini-14. I am extremely happy with the high quality of the product and even more so with the superior customer service I received.
My weapon was purchased used and had received some home gunsmithing from the previous owner. This created a couple of issues that I needed help resolving. You quickly replied with a phone call and solved the problem.
You took the first step in cementing me as a loyal customer and doing business the right way..."old school" as they say. Customer service makes the difference as to where I spend my money and I will certainly shop from you first.
Sincerely,
R. Robert Palmer
rpm4@centurytel.net
Missouri
---
Carl, 12/26/2009
I am sure you get this kind of feedback all the time but just thought you would like some follow up on the Ruger Mini 14 custom. I have used the bore snakes and JB Compound as you recommended and did disassemble the gun after 33 rounds because of a scope ring screw maladjustment. It came apart easily with the scope completely removed. I have now shot 162 rounds through the gun and with a Sierra 52gr Matchking HPBT and 25.8 gr of Varget 5 rounds were in a 1/2" group. Your guarantee held up! I attached my test loads and results in case you are interested.
My only request is, can I purchase 2 or 3 of the bedding screws (short and long) in case the hex heads get worn from disassembling for cleaning. The fit is pretty tight but I was careful not to tighten them much on reassembly and they are not loosening from firing. They could be mailed in an envelope.
Thanks for a good job. I was initially having buyer's remorse from those bedding screws but it is not that hard to remove them with the scope off and the rifle shoots better and better the more rounds I put through it (especially after the 102nd round when I used the JB-Bore Bright to polish the barrel).
Mike Kramer
mike82941@yahoo.com